News & Media
Deer Collision Season Opens: Drivers Beware! Mild winter, growing wildlife population increase the likelihood of accidents, experts say
September 28, 2012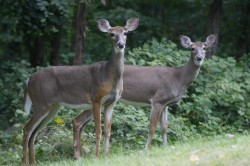 Wildlife researcher Brian Underwood has spent his life studying deer, so when he spotted a doe on the side of the road as he drove in central New York recently, he knew to slow down and keep an eye on her. What happened next, however, stunned even Underwood, a professor at the SUNY College of Environmental Sciences and Forestry in Syracuse.
As he watched the white-tailed deer, a second one darted out from the opposite side of the road, slamming into the side of his pickup truck with a loud thump. It then scampered off, leaving behind $2,500 in damage to the driver's door.
"I'm mad at myself," Underwood said, noting that he should have looked both ways. "I drive the roads, looking for deer. For 35 years, I never once hit a deer; I had a lot of close calls. My perfect record is blemished."
In the United States, there are at least 1 million motor vehicle accidents involving large wildlife each year. The number has increased in the past decade, according to the U.S. Department of Transportation. Federal officials say that each year, these accidents kill about 200 people, injure 29,000, and cause more than $1 billion in property damage.
Each year, there are roughly 65,000 motor vehicle crashes in New York that involve white-tailed deer, according to state officials, with most of them occurring from October to December — the animals' three month-long mating season that peaks in November. Because bucks are chasing reluctant does, the animals are more likely to jump into traffic, experts say.
Harold Aken, 54, of Rye, hit a deer for the first time last fall as he drove along Playland Parkway around dusk.
"I had no time to react," he said. "The thing was on my bumper like it miraculously appeared. Boom! I hit him on the backside and kept going."
Aken, who wasn't injured, spent several thousand dollars to repair the horn, headlight, fog lights, and bumper on his Kia Sorento, which he had just purchased new a few months before.
While experts don't know exactly how many white-tailed deer roam the state, they say the population has exploded in the last decade and could be as high as a million. Paul Curtis, a wildlife specialist in the Department of Natural Resources at Cornell University, said a mild winter earlier this year has probably helped more deer survive, which could lead to more animals on the roads this fall — and more collisions.
"Deer-vehicle accidents are definitely correlated to deer abundance, particularly in urban-suburban areas," he said.
Hunting restrictions and a variety of plants and flowers in people's gardens have allowed deer to especially flourish in the suburbs, Curtis said. Adult deer can grow up to 3 1/2 feet at the shoulder and typically weigh between 125 to 200 pounds, though males, which grow antlers every summer, can reach 300 pounds, state wildlife officials say.
Local auto body shop owners say during the fall they handle a deer collision case almost every day. Depending on the type of car, repair costs can easily total more than $10,000, they say.
Greg Zurla's Auto Body in Congers had several vehicles in its garage on a recent day that had been involved in crashes with deer.
"We got a new Lincoln here, and it was hit on the side, and it took out both doors. It's a lot of work," Zurla said.
Some cars get hauled in with the gruesome remnants of the crash still on them: splattered blood, tufts of fur, or even pieces of the deer's body. In some cases, deer fly through the windshields.
Matt Grasso, co-owner of Northern Westchester Auto Body in Bedford Hills, said the worst accident aftermath he has seen involved a rental car on Interstate 684 that struck an antlered buck head-on.
"It was beyond awful," he said of the deer carnage on the car.
While crashes with deer can kill drivers and passengers or seriously injure them, repair shop owners say current cars are designed with improved safety features that are better at minimizing crash impact than vehicles of the past.
To deter deer, some drivers try mounting special devices on their cars that emit a sound only deer can hear, but Underwood said those are "worthless," and don't keep deer away.
To help prevent a crash with a deer, drivers should slow down in areas with deer crossing signs, scan both sides of the road, and use extra caution at dawn and dusk, when deer are most active. Drivers should also be aware that deer routinely travel along the same routes in groups, experts say.
"If you see one coming across the road, you better be looking for another one," Underwood said.
The best way to react to a deer in the road is to slow down without jamming on the brakes. It's wiser to hit the animal than swerve and risk crashing into another car or object, Underwood said.
Hitting an animal instead of a guardrail or another vehicle is also better for any insurance claim.
Arlene Lester, spokeswoman for State Farm Insurance, which tracks deer hits, said deer crashes are considered part of comprehensive insurance coverage.
Comprehensive coverage pays for damages caused by events out of the driver's control, such as natural disasters or vandalism.
Because of that, comprehensive claims usually don't increase premium rates like a collision claim, she said.
"When it comes to premiums, hit the deer and not the tree," she said.
How to avoid a deer-vehicle collision
Use caution when driving at dawn or dusk and in areas with deer crossing signs 
Reduce your speed at night and use high beams when possible 
Slow down if you see a deer standing next to the road. 
If you see one, watch for others in the area. 
Briefly use flashers or a headlight signal to warn drivers when deer are spotted in the area.
Do not rely on devices to avoid a deer encounter. 
If a deer does run in front of your vehicle, brake firmly but do not swerve.
Source: state Department of Transportation