News & Media
Elusive lynx killed by motorist on Highway 93 South
by Colette Derworiz (Calgary Herald )
October 15, 2012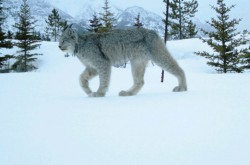 A lynx, known as an elusive and solitary animal, was hit and killed on a busy highway through Kootenay National Park on the weekend.
Around 4:30 p.m. Saturday, the animal was found dead by an off-duty parks employee on Highway 93 South near Hector Gorge, about 48 kilometres north of Radium Hot Springs in B.C.
It's the second lynx in two years to be killed on the highway in Kootenay National Park.
"It really is quite unusual," said Trevor Kinley, a Parks Canada road ecologist in Lake Louise, Yoho and Kootenay. "We had one last year, but we've only had four since 1979."
Lynx live in Banff, Yoho and Kootenay national parks in high evergreen forests. They are usually solitary animals that are mostly active at night.
It's unknown whether the lynx killed on the weekend was male or female because it was gone by the time officials returned to the area to pick up the remains.
Kinley said the latest death is a good reminder to motorists slow down in the park and keep their eyes open for wildlife along the road.
Highway 93 South has been particularly deadly for wildlife as large volumes of traffic go back and forth between Alberta and B.C., where many Albertans have vacation properties.
From 2000 to 2009, park staff recorded more than 400 large animal deaths along the highway through Kootenay. Many more wildlife-vehicle collisions go unreported.
Parks Canada has secured funding to allow it to start building fencing and wildlife underpasses in a priority section of Highway 93.
Construction will begin next spring, said Kinley.
© Copyright (c) The Calgary Herald