News & Media
More fences likely to protect wildlife from roadways
by John Thistleton (Canberra Times)
July 16, 2012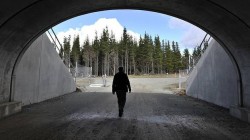 It's not hard to imagine a time in the future when major highways are fenced to protect wildlife.
Inspecting a guide fence and wildlife underpass near Canberra, ACT Roads manager of major capital works Ben McHugh says steps to protect animals and motorists from colliding have risen noticeably compared to a decade ago.
"It is something road designers are becoming more aware of in terms of the environmental impacts on wildlife and, in the ACT, we are obviously very aware that there are high numbers of kangaroos," he said.
A new section of the Kings Highway, east of Queanbeyan through South Kowen Pine Forest, has two underpasses – one for wildlife, the other as a fire trail.
Advertisement
About 600 metres of fencing, 1.8-metres high, guides animals to the underpasses.
Worth about $10,000 to $15,000, the fencing's top section is not braced, so it can absorb the impact of kangaroos trying to jump over it.
Mr McHugh said ACT Roads installed a wildlife fence along the first stage of the Gungahlin Drive Extension near Lyneham Ridge where high numbers of kangaroos lived.
He said the new Majura Parkway would have sections of fauna fences and underpasses.
"Generally if the volumes of wildlife in the area are such, you will find specifically designed underpasses to allow fauna to cross through the road corridor without hopping across the roads," he said.
"Before we opened the [new section of] Kings Highway we did a road safety audit. The audit was conducted about 7.30-8 in the morning and very large numbers of kangaroos were identified along the route."
He said extra fencing covered locations where the risk was deemed higher and wasn't necessarily picked up previously.
"So I think you will find the industry is more aware of the impact on wildlife these days, and you will see more of these fences and protective measures being implemented," he said.
Kangaroos, wombats, dogs and cats are the most frequently hit animals on the road, according to NRMA Insurance.
The Canberra Times on Friday identified Belconnen, Hume and Woden as being the three worst wildlife collision areas in the territory.