News & Media
Saskatchewan nervous over moose numbers, RCMP Const. killed after collision
by Tonaya Marr (The StarPhoenix)
July 24, 2012
The Saskatchewan Ministry of Environment is keeping a close eye on the province's moose population.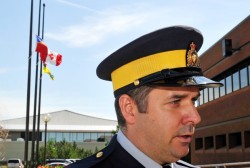 Environment Minister Ken Cheveldayoff said the government is looking into new ways to reduce the moose population.
"I've asked the Ministry of Environment to look at options to being even more aggressive on the numbers," Cheveldayoff said.
The moose population is controlled through hunting, with licences handed out in the big game draw.
The number of licences has been increasing. This season, 4,840 licences were handed out across Saskatchewan, with 2,650 in the southern portion of the province, an increase of 455 licences in that region last season.
Cheveldayoff 's announcement follows the death of RCMP Const. Derek Pineo, whose cruiser collided with a moose on Highway 14 west of Wilkie early Friday.
In order to better understand the number of collisions involving moose in Saskatchewan, Cheveldayoff said that ministry staff will be speaking with SGI officials to examine wildlife collisions.
SGI lists the number of moose-related collisions under the wildlife category when making a claim. In 2011, there were nearly 16,000 collisions with wildlife claimed – 11,015 of these being collisions with deer. As well, 304 people reported injuries and two died as a result of wildlife collisions.
Rebecca Rogoschewsky, a spokesperson for SGI, said the Crown could collect data on moose-vehicle collisions as early as this fall, with clearer statistics coming after a year. SGI could also look into previous claims to find out if moose were specified in wildlife collision claims.
Last year, the Auto Fund paid out more than $47 million in wildlife claims in 2011.
The moose population in Saskatchewan has been steadily increasing, especially in the southern portion of the province. Moose typically live in the forested areas of the province, including areas such as Moose Mountain. However, recent years have seen moose migrating into the wide-open prairies as their numbers have grown.
© Copyright (c) The StarPhoenix