News & Media
Underpass for wild animals
July 20, 2012
IPOH – A viaduct to allow safe passage for wildlife across the East-West Highway will be built on a site near Pulau Banding.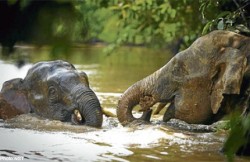 State Wildlife and National Parks Department (Perhilitan) director Abdul Kadir Abu Hashim said construction of the 1km underpass would begin next year.
"We choose the site as studies conducted by the department found that most wildlife passes that area.
"The government has, in principle, agreed on the site," he told the New Straits Times here yesterday.
It was reported that the cabinet had approved RM60 million (S$24.56) to build the viaduct over the highway, which connects Grik in Perak and Jeli in Kelantan
Besides the Pulau Banding site, the cabinet had also approved similar projects in Terengganu and Pahang, costing RM110 million.
The viaduct, vital in linking fragmented tiger populations and reducing conflict with humans, was to save wildlife from being killed or injured when crossing the highway.
It will also allow safe passage between conservation corridors such as the Greater Taman Negara and Belum-Temengor Priority Tiger Landscape.
Kadir said if given a choice, the department would love to have several viaducts along the 100km highway.
"But based on the allocation given to us, we need to prioritise."
Extra manpower would be deployed at the viaduct area once construction was completed, he said, adding that this was to deter poachers.