News & Media
USU says hundreds of deer using Sardine Canyon safety crossing
October 15, 2012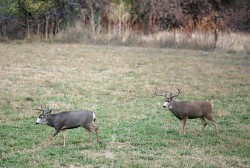 LOGAN — State wildlife officials say two new crossing structures have safely allowed 300 deer to cross under busy northern Utah roads.
Division of Wildlife Resources officials tell KSL the projects are reducing the number of deer that are hit and killed by vehicles.
Utah State University researchers have been monitoring a culvert in Box Elder County since 2009. They say deer weren't using it as much as scientists hoped, but changes in a fence design have improved the animal traffic.
Officials counted 284 deer using the culvert to cross the highway in Sardine Canyon in the first six months of the year.
A new pathway under a bridge at Summit County's Echo Junction has been used by about 60 deer in its first six months.