News & Media
When it comes to crossing the road, wildlife can see … Light at the end of the tunnel
by Brian Walker (Coeur d'Alene Press)
July 23, 2012
ATHOL – Come this way, deer.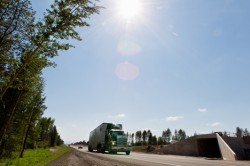 Thanks to a wildlife underpass, animals in the Athol area can now see the light at the end of the tunnel when it comes to darting across busy U.S. 95.
The underpass aimed at reducing the risk of vehicles vs. wildlife collisions is part of the highway improvement project just north of the Chilco interchange north of Hayden.
Wayne Wakkinen, a wildlife research biologist with Idaho Fish and Game, said animal tracking information and the flat terrain made the location ideal for a wildlife underpass.
"It seems to be approachable for animals," Wakkinen said.
There's three underpasses along U.S. 95 north of Bonners Ferry and the popularity varies widely to the animals.
"One has a lot of use and another has very little use," Wakkinen said. "We believe a lot of that has to do with the placement of the underpasses and the angle of approach for the animals."
The underpass with the flattest terrain where the animals can see the other side is the most popular.
"If it looks like a black hole, they tend to be more afraid to use it," Wakkinen said. "If they can see through it, they're more comfortable."
Wakkinen said the underpasses – a collaboration between Fish and Game and the Idaho Transportation Department – have had a "learning curve" for state officials. Another wildlife underpass was completed on Idaho 21 in the Boise area in 2010.
Most of the underpasses have fencing that funnels the wildlife to the underpass. Some have cameras that track what types of animals use them and how many.
The underpasses have been successfully used in several areas, including Wyoming, Florida, Arizona, New Mexico, Colorado and Banff National Park in Alberta.
Wakkinen said whitetail deer along U.S. 95 will be the No. 1 reason for the underpass and perhaps the biggest user. But a variety of animals, including elk, black bear, mountain lions, skunks, moose and raccoons, are expected to pass through.
"From a numbers standpoint, whitetail deer would make up the bulk of the auto crashes," Wakkinen said. "But, from a human safety standpoint, moose are the biggest concern. If a small car takes out the tall legs of a moose, its body could go through the windshield."
Wakkinen said it's a process for wildlife to get accustomed to using underpasses.
"They will not perceive it as a better option right off the bat," he said. "Animals are like us; they're creatures of habit. You have to re-teach the behavior. They have to be forced to learn that underpasses are good. Once behavior is established, it's passed on from the mom to the offspring and there becomes a steady-use pattern."
Barbara Babic, ITD spokeswoman, said the wildlife underpass in the Athol area is the only new one planned for the near future in North Idaho.