News & Media
Why did the moose cross the road? Saskatchewan study begins this month
by The Canadian Press
February 4, 2013
A research project at the University of Saskatchewan will try to determine why moose feel moved to cross rural highways.
The study starts this month and will track the movements of 50 moose over a four-year period.
Twenty-five of the creatures along Highway 11 between Saskatoon and Regina will be collared with a built-in satellite phone that sends data back to researchers.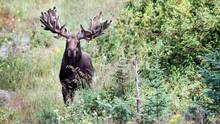 The stretch of road is considered a hot spot for collisions between vehicles and moose.
The Environment Ministry asked researchers to study how moose use their habitat and to identify high-risk collision areas.
It's hoped the data collected will help develop a long-term moose management strategy.
The collars are designed to fall off after 24 months.
"For two full years, we get very detailed locations on exactly where that moose is every day, all day and night," said Ryan Brook, project director with the Saskatoon university's College of Agriculture and Bioresources.
He said there were virtually no moose in rural Saskatchewan 40 or 50 years ago, specifically in the central and southern parts of the province. But now they are causing some problems.
"Concerns about crop damage, damage to fences. And quite a number of people have had close calls, serious injuries, and even a number of deaths from collisions with moose," said Mr. Brook.
Mr. Brook is asking hunters to hold off on shooting moose involved in the project. He said animals in the study can be identified by a white collar and two clearly visible ear tags.
"The cost of buying a collar and getting it on the animal and getting the data is about $5,000 per animal, so we're hoping that if hunters can leave the collared animals alone then we'll get a lot more useful information."