News & Media
Fastest US land animal, the pronghorn, gets help crossing Wyoming highway
by Miguel Llanos (NBC News)
October 18, 2012
The fastest land animal in the U.S. now has safe passage across a Wyoming highway — extending a seasonal migration that's been going on for 6,000 years.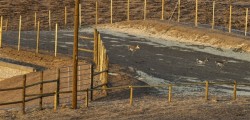 Pronghorn antelope have started using two overpasses atop Highway 191 that were completed this fall, the Wildlife Conservation Society announced this week. Eight-foot high fencing channels the animals to the crossing points.
"The importance of these overpasses and their use by pronghorn cannot be overstated," Joel Berger, a Wildlife Conservation Society scientist, said in a statement announcing the first successful crossings. "They eliminate the danger of collisions and will help to preserve a spectacular element of our natural heritage — the longest mammal migration in the 48 contiguous United States."
The group has been tracking pronghorn in the area and provided data for Wyoming to decide where to put the overpasses.
The entire $10 million project includes six underpasses used by deer, moose, elk and other animals. Pronghorn got the overpasses because they don't like going into tunnels.
The eight passages are along a 13-mile stretch of Highway 191. The state's aim was to reduce car-wildlife crashes — from 2002 and 2006, 49 deer and three pronghorn were killed in crashes. 
Able to run at speeds up to 70 mph, pronghorn probably numbered around 35 million in North America two centuries ago, the Wildlife Conservation Society stated. Today, Wyoming is home to more than half of the estimated 700,000 pronghorn left in North America. 
The pronghorn use the corridor to get back and forth between winter sagebrush in the Upper Green River Basin and summer grounds in Grand Teton National Park.
Several hundred make the 93-mile migration each season — and now they have the chance to do it without stopping at Highway 191. 
The Associated Press contributed to this report.