News & Media
Wildlife Crossings Pilot and Wildlife Infrastructure Funding under the Infrastructure Investment and Jobs Act
December 5, 2023
Photo credit: Renee Callahan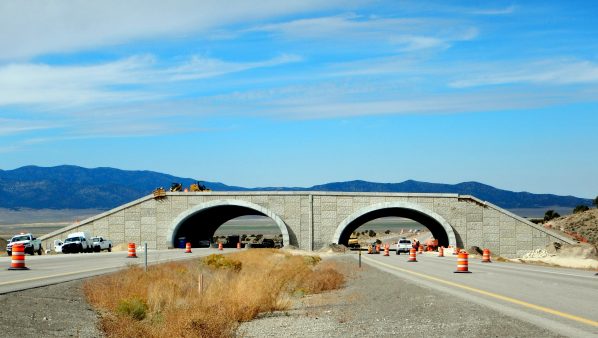 Inaugural Round of $110 Million in Wildlife Crossings Pilot Funding Announced (December 5, 2023)
We applaud Congress and the Biden Administration for delivering on their bipartisan promise to make our nation's highways safer for people and wildlife through an inaugural investment of nearly $110 million in funding for the Wildlife Crossings Pilot Program.
To learn more about funded projects, read our press release here.
---
ARC Solutions, National Parks Conservation Association, and Wildlands Network are excited to share this snapshot guide to Wildlife Infrastructure Funding Opportunities within the Infrastructure Investment and Jobs Act. Interested in learning more about national grants and other Federal, Tribal, and State funding programs that can be used to pay for wildlife mitigation measures, including animal road crossing structures?  Then this is the guide for you!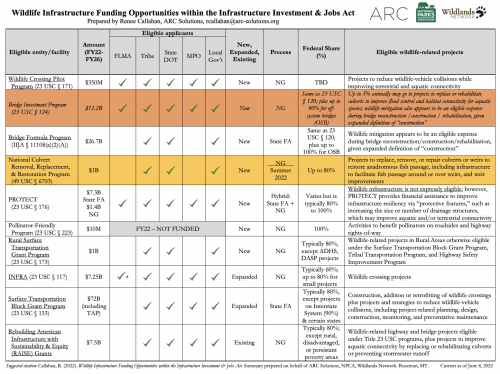 The linked guide provides a snapshot of key eligibilities for more than 15 funding programs, including:
$350 million in dedicated funding via the Wildlife Crossing Pilot Program
Rural Surface Transportation and INFRA Programs
Bridge Investment and Nationally Significant Federal Lands and Tribal Projects Programs
National Culvert Removal, Replacement, and Restoration Program
Promoting Resilient Operations for Transformative, Efficient, and Cost-saving Transportation (PROTECT) Program
Rebuilding American Infrastructure with Sustainability & Equity (RAISE)
Surface Transportation Block Grant Program
Transportation Alternatives Program
Highway Safety Improvement Program
Federal Lands and Tribal Transportation Programs
A living document, the snapshot guide will be updated as new funding notices are released, so be sure to check back periodically or email info@arc-solutions.org to subscribe to updates!
---
Additional Funding Resources:
Roadways and Wildlife Resources:
Contacts:
Renee Callahan, rcallahan@arc-solutions.org
Marta Brocki, mbrocki@arc-solutions.org