News & Media
Train kills two young grizzly bears in Banff National Park
October 9, 2012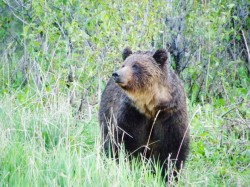 CALGARY — Two young grizzlies may have been walking on train tracks for sturdy footing in a boggy area when a train struck and killed them, a Parks Canada wildlife specialist said.
And in the pitch mountain darkness, the engineer likely couldn't see the members of Banff National Park's beloved and threatened species, of which only around 60 are believed to exist.
The two yearlings were struck and killed around 9 p.m. Friday west of Banff townsite, marking the 12th and 13th grizzlies to be killed by trains in the national park since 2000.
It comes after a busy first summer of a five-year Parks Canada and Canadian Pacific joint project to research ways of curbing the Banff National Park grizzlies' top killer — the 25 to 35 trains that muscle through the park daily. Parks and train staff alike had been pleased that Banff's grizzlies seemed headed for their first year in several without a single death by locomotive.
"We were kind of celebrating the success of good, on-the-ground research and then, unfortunately, this incident occurred," CP spokeswoman Breanne Feigel said Monday.
The scientists are resisting any knee-jerk responses in the study's infancy, but the work could eventually lead to more specific protections in certain high-risk areas, said Steve Michel, who specializes in human-wildlife conflicts with Park Canada.
It's not the first time bears have been found dead by trains in marshy parts of Banff park.
"Because they can travel down the tracks for that short distance and it's easier than travelling off the tracks in that marsh and bog area," Michel said Monday.
The project may lead to more protective fencing to keep bears away from stretches of track they're tempted to go near, said Sarah Elmeligi of Canadian Parks and Wilderness Society.
"Animals always want to use the path of least resistance," the senior conservation planner said. But there aren't any clear solutions yet, she added.
"Until we figure out what kind of mitigative tactics work the best — I don't want to say it's inevitable, because it's really, really sad — I can't think of anything somebody's not doing now."
One of the grizzlies was a male yearling. Parks staff couldn't determine the other grizzly's gender after studying the carcass after the collision.
Michel said officials take some solace in the fact the yearlings' mother, No. 130, survived and should be able to have future offspring.
No. 130 was one of 11 Banff grizzlies fitted with a GPS collar to allow wildlife researchers to track and better understand their movements.
She has often been spotted close to Banff's golf course, as well as the Trans-Canada Highway and CP main line track. But No. 130 tends to be "reclusive" and would normally go to those human-activity areas early in the morning or late at night, Michel said.
As part of the research project, many trains have been equipped with cameras that can help reconstruct bear collisions. It's unclear if there was one in this case, Feigel said.
"For sure, we made no assumptions that just because we've begun the research that all of a sudden we weren't going to be faced with these types of tragic situations, but hopefully we can learn from it."
Park staff said they didn't find any grain or similar food attractants at the site — which is the typical fatal lure for the bears.
In addition to pitching in on the $1-million research study, CP has spent millions to repair leaking federal grain cars and for a vacuum truck that sucks up grain spills when they're spotted.
© Copyright (c) The Calgary Herald